How I use B9 Yellow Resin for my jewelry business – Nicolas Tranchant
I am Nicolas and I run a jewelry business online (vivalatina) that provides original design and on demand jewelry creations.  As most of my designs are pretty complex, I need a 3D printer to make those designs on demand as I sometimes can have failures on printing or while casting the parts in metal. For this I used the 1200 Projet from 3DSystems at the beginning but the resin costs and lack of support (I was talking to sales people and not technical guys in case of trouble) led me to another model of 3d printer.
As I had trouble with the 3DSystems resins that could not be burnt sufficiently for a good casting process and was so expensive, I turned myself to the B9 Yellow Resin that a friend of mine had tested with success on his own 3D printer.  As I had great results, I now use the B9 Yellow Resin for my prints.
My core business is signet rings, and the whole collection is made with this B9 Yellow resin, but I know others could work also (the Red and Emerald B9 resins).
Here are a few examples of complex signet rings made from the B9 resin:
The 3D design:
and the 3D prints with the B9 Yellow:
The B9 Yellow Resin is difficult to photograph as the details are difficult to see, but the resolution of the details is perfect.
The signet ring once cast in gold:
I have also made this massive gold and silver ring with the B9 Yellow: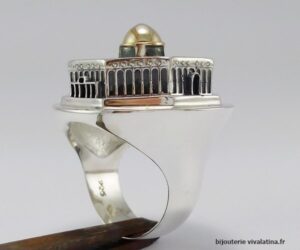 It is made of 3 parts, each one cast on its own and then welded together. Here is one of these parts made from B9 Yellow.
This other ring, a lion's head, is made from B9 yellow and then cast in silver:
The main characteristics of the B9 Yellow Resin are:
1. Very hard to photograph
2. The pigment stays mixed with the resin for a while when the resin is not used, so if you do not use your 3d printer for 2 or 3 days there is no trouble.
3. The pigments and resin mix very well when you need to mix it
4. It can be cleaned very easily with standard alcohol.
5. The cured resin is not damaged by the alcohol when you forget your printed parts in the alcohol recipient (which happens to me quite often)
6. It cured pretty quickly under UV for 2/3 hours and it's done.